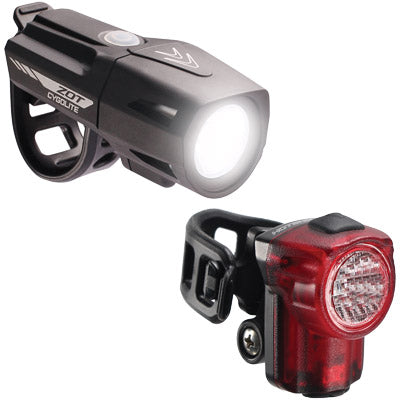 Cygolite Zot 450 & Hotshot Micro 30 Combo USB
Take on any road with the aggressively powerful and sleek Zot™ 450. Its impressive 450 lumens fires up extra wide, long range coverage at night, while its lightning-like flashes make you stand out in broad daylight, to ensure safer cycling at all times. Every bit the road cyclist's light, it uses a low profile flexible mount designed to strap quickly and easily to most handlebars including aerobars. Get the most out of your ride with the Zot's uncompromising safety and illumination.
Powerful 450 lumen output with 8 light modes
Built-in 24/7 Safety Technology® gives you a powerful selection of night and day modes
(Boost - High - Medium - Low - SteadyPulse® - DayLightning® - Triple Flash - Walking)
DayLightning® mode emits lightning-like flashes to highlight your presence in the brightest of daytime hours
SteadyPulse® mode alerts night time motorists with pulses while constantly lighting your path
Enhanced Cycling Optics™ (ECO) expands your visibility with an extra wide and long range beam
USB rechargeable Li-ion battery
Low battery indicator
Light mode memory saves the mode you're in before the light is turned off
Light activation lockout prevents accidental light activation
Low profile, water resistant design only weighs 70 grams
Side illumination ports highlight your presence to nearby motorists
Versatite™ flexible mount conveniently attaches to most handlebars including aero bars
Packed with features for safe cycling, this micro sized Hotshot™ combines a powerful 30 lumens of flashing red with 5 road-proven modes and an Enhanced Cycling Optic™ that scatters light at a wider angle for maximum distance and extra wide visibility during night and day use. Its Versatite™ flexible mount lets you attach the Hotshot Micro 30™ tail light to most seat posts and seat stays, including aero styles.
Powerful 30 lumens flashing, 2 watt LED
Low profile, compact size
USB rechargeable Li-ion battery
Enhanced Cycling Optics™ scatters the beam to maximize your visual presence from a wider angle
Low battery indicator
Water resistant design
2:30 ~ 100 hr run time
5 modes: Single Flash - Zoom - SteadyPulse® - Steady Beam - Group Mode
SteadyPulse's steady beam helps motorists better gauge their distance from you while the overlapping pulses keep them alert of your presence
Sturdy and flexible Versatite™ mount attaches to most seat posts and seat stays, including aero styles
---
We Also Recommend
---